Forgot again! Lunchtime book is a lifesaver. This is practically my favorite Mary Stewart book [I love Lewis], and it's been a while since I made a first-two-lines teaser, so...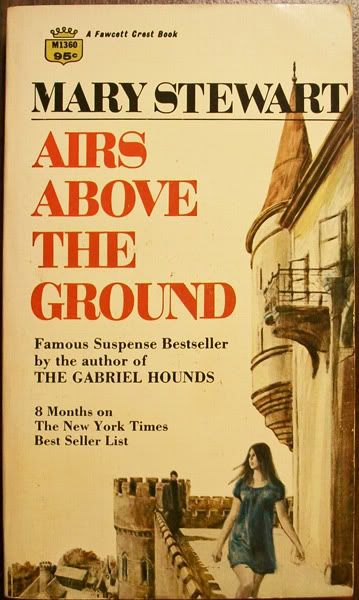 Carmel Lacy is the silliest woman I know, which is saying a good deal. The only reason that I was having tea with her in Harrods on that wet Thursday afternoon was that when she rang me up she had been so insistent that it was impossible to get out of; and besides, I was so depressed anyway that even tea with Carmel Lacy was preferable to sitting alone at home in a room that still seemed to be echoing with that last quarrel with Lewis.
- p. 1,
Airs Above the Ground
by Mary Stewart
Teaser Tuesdays is a weekly bookish meme, hosted by MizB of Should Be Reading. Anyone can play along! Just do the following:
* Grab your current read
* Open to a random page
* Share two (2) "teaser" sentences from somewhere on that page
* BE CAREFUL NOT TO INCLUDE SPOILERS! (make sure that what you share doesn't give too much away! You don't want to ruin the book for others!)
* Share the title & author, too, so that other TT participants can add the book to their TBR Lists if they like your teasers!