30 Days of KDramas Challenge, Bonus Days
Your favorite casting ensemble
I actually have a lot of choices for this category-- I'm the type who gets all wrapped up in the characters if they're constructed well. I chose the ones where each character has his or her own part to play and isn't a token something or a member of the chorus.
On the short list are:
Queen Seon Deok
- Lee Yo Won as Princess Deokman / Queen Seondeok; Uhm Tae Woong as Yushin; Lee Seung Hyo as Alcheon Rang; and Kim Nam Gil as Bidam. Princess-in-exile wants to claim her birthright, crossdresses as a nangdo (novice Hwarang), and collects a white knight (Yushin), a dark knight (Bidam), and a golden knight (Alcheon) en route. My only peeve is that Alcheon is not as well-delineated as the others, but then I seem to have heard that this role only got expanded because the character got a lot of fan support.
The Woman Who Still Wants To Marry
- Park Jin Hee as Lee Shin Young; Uhm Ji Won as Jung Da Jung; Wang Bit Na as Kim Bu Ki; Park Ji Young as Choi Sang Mi; Kim Bum as Ha Min Jae; Choi Chul Ho as Na Ban Seok; Lee Pil Mo as Choi Sang Woo. Career women of a certain age, still looking for love and the meaning of life. The three friends mesh well together, each with her own quirks, and each finds the kind of life that best suits her.
Dream High
- Suzy as Go Hye Mi; Kim Soo Hyun as Song Sam Dong; Taecyeon as Jingook; Ham Eun Jung as Yoon Baek Hee; IU as Kim Pil Sook; Wooyoung as Jason. Six students--spoiled rich girl, naive provincial, black sheep, betrayed devoted fan, ugly duckling, prince charming--enter high school for potential stars, learn friendship along the way.
You're Beautiful
- Park Shin Hye as Go Minam/Go Minyeo; Jang Geun Seok as Hwang Taekyung; Jung Yong Hwa as Kang Shinwoo; Lee Hong Ki as Jeremy. Novice nun crossdresses to masquerade as errant twin brother in an idol band.
But my first choice is, and always will be--
Sungkyunkwan Scandal
's Jalgeum Quartet (ah,
those naughty gisaengs, what a nickname
!). Each of the four has a distinct personality and a distinct role to play in the story, and thus has something important to contribute to the group as a whole.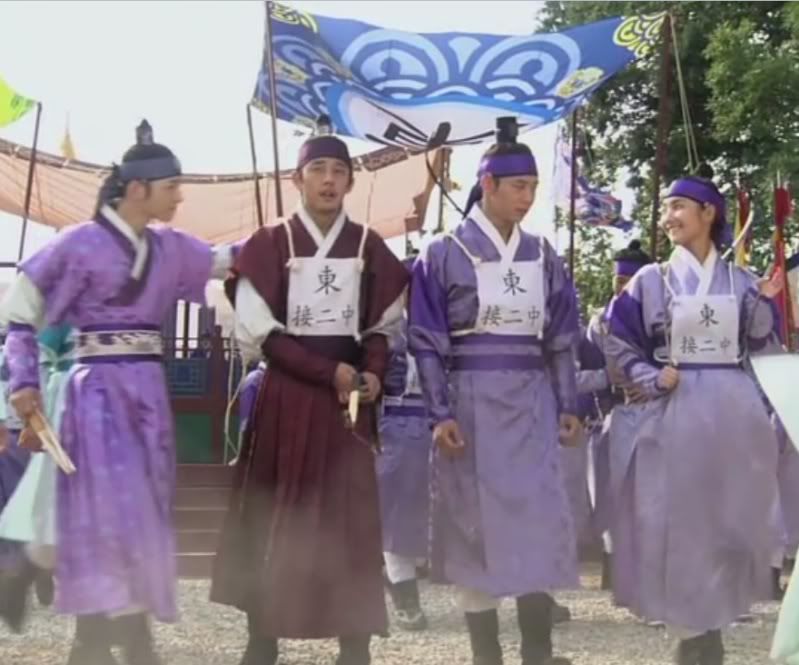 Jalgeum Quartet en route to archery contest
(L-R: Yongha, Jaeshin, Sunjoon, Yoonshik/Yoonhee)
The fans are so divided on this, but I'm one of those who thought Yoochun was really well-cast as Lee Sun-joon, aka Ga Rang the "perfect husband material." Sun-joon's good-looking, nobly born and rich, and a really bright scholar. He's a bit of an idealistic nerd, and comes across as aloof, but you realize how lonely he must have been growing up when you see him reach out to his friends and classmates. He also puts that intelligence and idealism to good use when it's most needed.
Then, seemingly on the opposite end of the spectrum, you have Yoo Ah In as Moon Jaeshin, aka Geor Oh, the "crazy horse." He's this guy who makes scruffy look hot, and yet one look from him sends most of his schoolmates diving for cover. What they don't know is that he's as much an idealistic scholar as Sun-joon in his own way, and just as chivalrous too. He's the martial artist in the group, so most of the time he provides the muscle. [Anecdote: It is said that Yoo Ah In once fell asleep on set waiting for the shooting, but he was so in character that when he was called by his character's name instead of his own, he answered in his sleep.]
You'd expect an Alcheon-type character to balance these two, but no, you get Song Joong Ki as Gu Yong Ha, aka Yeo Rim the playboy. At first glance you'd think this peacock didn't have a deeper thought in his head than color coordinating his clothes for the next day, then you find out he knows everything that goes on in the school. The born spymaster turns out to be a loyal and valuable friend as well.
And then you have Kim Yoonhee pretending to be her brother Kim Yoonshik so she could study at Sungkyunkwan, aka Dae Mul the "big man" (who is not big and definitely not a man) and before that was called "nok bin hong an" the "pretty face." She's got that something that gets most of the other students on her side, even though they don't know she's a girl.
Other bonus days:
Your favorite plot/ending twist
Favorite line/s by a supporting character
K-drama character with the wardrobe you most covet.
Absolutely must-have item featured in a KDrama
Best unnee
Best hyung
Best noona
Best oppa
Best oemoni
Best abeoji
Most unforgettable sisterhood.
Most unforgettable bromance.