30 Days of KDramas Challenge
Day 29: A Kdrama which made you so happy
A whole darned lot of them! These are the dramas that made me laugh out loud and hate it when I had to stop watching and go to sleep.
Full House
was the first. Then
Shining Inheritance
.
Dream High
.
The Woman Who Still Wants to Marry
.
Sungkyunkwan Scandal
.
Dong Yi
.
Personal Taste
. Ottokae, ottokae. What to choose!
Fine. When it comes to maxed out happiness levels,
Sungkyunkwan Scandal
wins. Properly drool-worthy and heartwarming cast of characters, sparkling repartee, beautiful cinematography, rockin' sound, and hold-your-breath-worthy adventure. You get a sageuk with a Baz Luhrmann's
Romeo + Juliet
vibe-- and there's Song Joong Ki as Gu Yong Ha, who keeps on reminding me of a young Leo, the mischievous one not the tragic-hero one, with a dash of
Clueless
's Cher ["Black is so not my color!"]. What's not to like?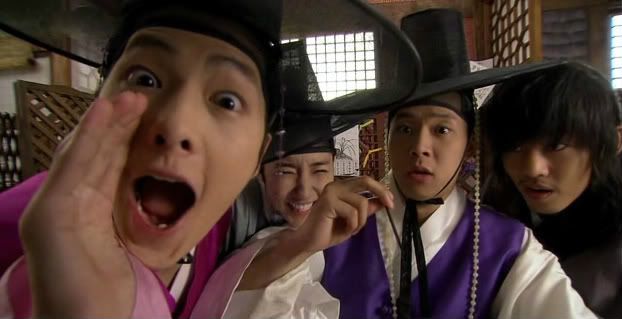 Day 30: A Kdrama which made you so sad
Aw, we're nearly at the end! But don't worry, lots of bonus days ahead.
Also, I want to do these bonus days:
Your favorite casting ensemble
Your favorite plot/ending twist
Favorite line/s by a supporting character
K-drama character with the wardrobe you most covet.
Absolutely must-have item featured in a KDrama
Best unnee
Best hyung
Best noona
Best oppa
Best oemoni
Best abeoji
Most unforgettable sisterhood.
Most unforgettable bromance.