30 Days of KDramas Challenge
Day 24: Your Worst Couple
replaced by:
Your favorite KDrama character (not the hero or heroine)
Ottokae, so many favorites. Pil-sook and Jason. Yong Ha. Bu Ki. Alcheon Rang (Queen Seon Deok). Mishil. These are the characters who aren't the leads or third wheels, but I really anticipate their appearance.
Pil-sook and Jason in
Dream High
were so cute together that I wanted to pinch their cheeks. Bu Ki of
The Woman Who Still Wants to Marry
is a woman I'd like to live up to-- she's lovely, poised, accomplished, and single and loving every moment of it. Alcheon was the balancer between Bidam the dark knight and Yushin the idealist. Mishil was a formidable opponent and didn't even give her enemies the satisfaction of killing her.
But our winner is...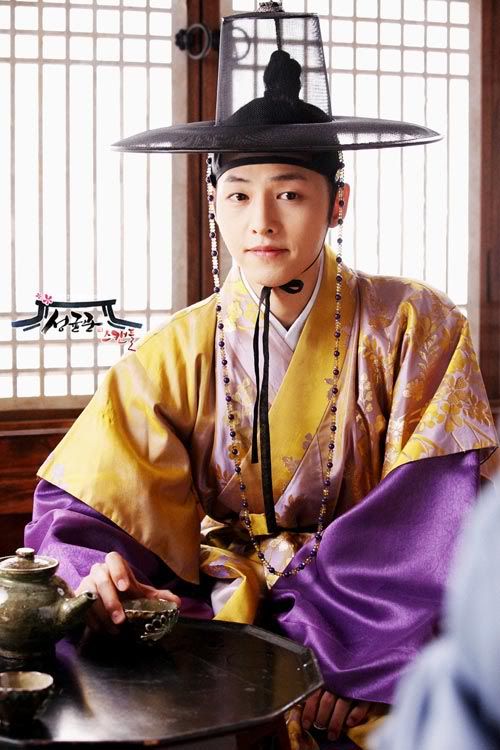 Sungkyunkwan's fashionista master of intrigue.
"Of course I know! I'm Gu Yong Ha!"
Song Joong Ki rocks. And there are instances when he reminds me of a younger Leonardo di Caprio.

Day 25: Your First Kdrama
Day 26: Your Recently Finished Kdrama
Day 27: A Kdrama loved by many but you don't seem to like
Day 28: A Kdrama not loved by many but you seem to like
Day 29: A Kdrama which made you so happy
Day 30: A Kdrama which made you so sad
Also, I want to do these bonus days:
Your favorite KDrama character (lead or supporting)
Your favorite casting ensemble
Your favorite plot/ending twist
Favorite line/s by a supporting character
K-drama character with the wardrobe you most covet.
Absolutely must-have item featured in a KDrama
Best unnee
Best hyung
Best noona
Best oppa
Best oemoni
Best abeoji
Most unforgettable bromance.