Because this is one of my most favorite books from one of my most favorite authors.
Mary Stewart
is better known for her Merlin books, but she wrote
Gothics
too. Funny, an old Mills & Boon romance,
Crown of Willow
, sort of parallels this book -- same name for the hero, same Cinderella-at-the-ball and illicit midnight feast scene. O_O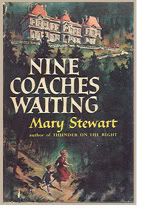 The clock was beating twelve as I moved quietly along the corridor. Then a thought touched me out of nowhere and I stopped short, staring down at the sandal in my hand.
-p. 178,
Nine Coaches Waiting
by
Mary Stewart
Teaser Tuesdays is a weekly bookish meme, hosted by MizB of Should Be Reading. Anyone can play along! Just do the following:
* Grab your current read
* Open to a random page
* Share two (2) "teaser" sentences from somewhere on that page
* BE CAREFUL NOT TO INCLUDE SPOILERS! (make sure that what you share doesn't give too much away! You don't want to ruin the book for others!)
* Share the title & author, too, so that other TT participants can add the book to their TBR Lists if they like your teasers!