30 Days of KDramas Challenge
Day 10: Your Favorite Line/s by a Female Third Wheel
I have come to the conclusion that I like many third wheels better than I like their OTPs. :P
Because, once again... we get lines from my favorite female third wheel.
This is the line that has stuck with me the most, of all the lines delivered by all the third wheels in all the dramas in the world.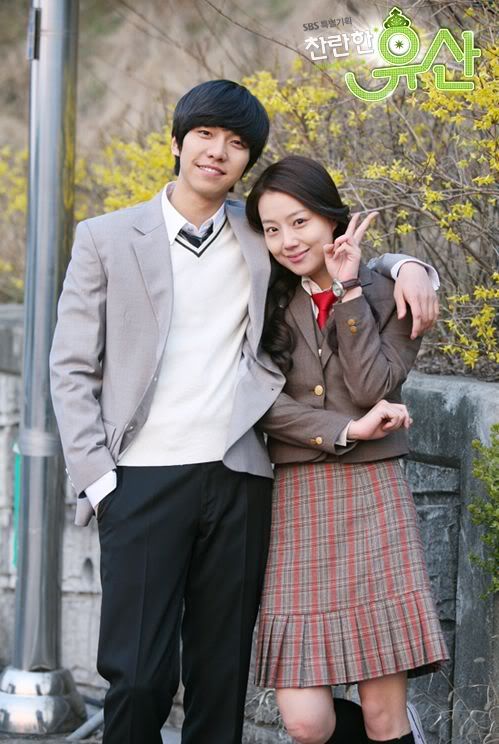 "To me, Hwan oppa is like water and air, and land. The land that I can stand on."
-Yoo Seung Mi in Ep. 17 of
Shining Inheritance/Brilliant Legacy
, when the lead female character, her stepsister Eun Sung, asks her if she really likes the male lead character that much.
A lot of people view her as your typical bitchy villainess; I think that title should go to her mom. A lot of times in the drama, Seung Mi tries to do the right thing-- she tries to help Eun Sung, she even tries to stand up to her mom. Unfortunately, she always gets hampered by the idea that nobody loves her aside from her mom and Hwan, and she gets scared of losing them both. What she says to Eun Sung reveals her weakness, especially when we know that she and Hwan aren't the OTP so she's probably going to lose him in the end. What will happen to her if she loses water, air, and the land underneath her feet? I ended up hoping that she would find her own strength and carry on without having to depend on other people.
Day 11; Your Favorite Dialogue
Day 12: Your Favorite Story
Day 13: Your Favorite "I Love You"
Day 14: Your Favorite Kiss
Day 15: Your Favorite Ending
Day 16: A Kdrama you started but can't finish
Day 17: A Kdrama you've watched more than once
Day 18: The Worst Kdrama that you've watched until the end
Day 19: Your Best Actor
Day 20: Your Best Actress
Day 21: Your Worst Actor
Day 22: Your Worst Actress
Day 23: Your Best Couple
Day 24: Your Worst Couple
Day 25: Your First Kdrama
Day 26: Your Recently Finished Kdrama
Day 27: A Kdrama loved by many but you don't seem to like
Day 28: A Kdrama not loved by many but you seem to like
Day 29: A Kdrama which made you so happy
Day 30: A Kdrama which made you so sad
Also, I want to do these bonus days:
Day 31: Your favorite KDrama character (lead or supporting)
Day 32: Your favorite casting ensemble
Day 33: Your favorite plot/ending twist
Day 34: Most exasperating character