30 Days of KDramas Challenge
Day 18: The Worst Kdrama that you've watched until the end
Ottohkae! I always fall down on this kind of question, mainly because I choose the k-dramas that I watch, based on the reviews I see on sites like
Dramabeans
. Sometimes a drama will tickle my fancy even when it gets bad reviews, if I like the actors/actresses or the premise is quirky. Or sometimes it's just like crack-- you know it's bad but you can't help watching in a sort of horrid fascination, like a bird mesmerized by a snake. @___@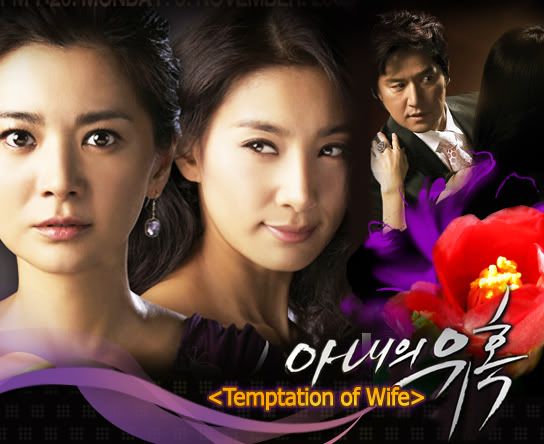 Okay, fine. I nominate
Temptation of Wife
. [GMA-7, this is all your fault, yes, you.] Since I didn't watch
Mary Stayed Up All Night
. :P Mainly because it was shown on TV here, sandwiched between shows I liked, so I ended up watching it, yelling at the screen, and wanting badly to bitch-slap the husband and his creepy Elvira-type mistress slash ex-best friend. They were so bad I just wanted the wife to ditch them both and run as far away as she could and find a new life. Honestly, hubby wasn't even that much of a catch [insert nauseated face here]. Plus, the other characters, especially horrible mother-in-law, was such a caricature, I wanted to throw her in the ocean. Now you've started me ranting again. Would someone please invent one of those "punch the..." games with the characters in this drama so I can bang their heads together to my heart's content?
Day 19: Your Best Actor
Day 20: Your Best Actress
Day 21: Your Worst Actor
Day 22: Your Worst Actress
Day 23: Your Best Couple
Day 24: Your Worst Couple
Day 25: Your First Kdrama
Day 26: Your Recently Finished Kdrama
Day 27: A Kdrama loved by many but you don't seem to like
Day 28: A Kdrama not loved by many but you seem to like
Day 29: A Kdrama which made you so happy
Day 30: A Kdrama which made you so sad
Also, I want to do these bonus days:
Day 31: Your favorite KDrama character (lead or supporting)
Day 32: Your favorite casting ensemble
Day 33: Your favorite plot/ending twist
Day 34: Most exasperating character
Day 35: Favorite line/s by a supporting character
Day 36: K-drama character with the wardrobe you most covet.