Because I like memes, and I like the 30 Day Challenges-- they provide an outlet for my awesome obsessions. Like this one. So. Let's begin!
30 Days of KDramas Challenge
Day 01: Your Favorite Kdrama
This is hard. So many EPIC dramas. So many dramas that I love so much. There's always Legend, my first favorite. And The Woman Who Still Wants to Marry, and Sungkyunkwan Scandal, and Dream High, and You've Fallen For Me...
Still, I guess the prize goes to the drama I've practically memorized chapter and verse, episode and dialogue. The one that got me into this mess they call K-drama addiction. The female lead was adequate, but her interaction with the male lead was really cute, and HE's still one of my favorite K-actors/celebs ever. Even when he was playing a jerk and the male second lead was a real sweetie. And I knew I was supposed to dislike the female second lead, and I did at first because well, she's the female second lead. In the end, I began to feel sorry for her, and identify with her, and in the end took her name. And the actress ended up as one of my favorites as well.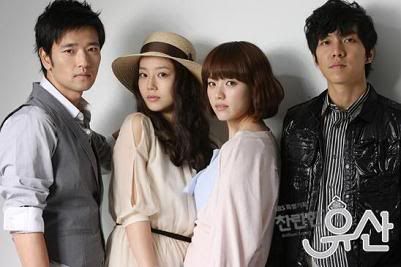 Why,
Shining Inheritance / Brilliant Legacy
, of course.
Day 02: Your Favorite Male Lead Character
Day 03: Your Favorite Female Lead Character
Day 04: Your Favorite Male Third Wheel Character
Day 05: Your Favorite Female Third Wheel Character
Day 06: Your Favorite Song from a Kdrama OST
Day 07: Your Favorite Line/s by a Male Lead Character
Day 08: Your Favorite Line/s by a Female Lead Character
Day 09: Your Favorite Line/s by a Male Third Wheel
Day 10: Your Favorite Line/s by a Female Third Wheel
Day 11; Your Favorite Dialogue
Day 12: Your Favorite Story
Day 13: Your Favorite "I Love You"
Day 14: Your Favorite Kiss
Day 15: Your Favorite Ending
Day 16: A Kdrama you started but can't finish
Day 17: A Kdrama you've watched more than once
Day 18: The Worst Kdrama that you've watched until the end
Day 19: Your Best Actor
Day 20: Your Best Actress
Day 21: Your Worst Actor
Day 22: Your Worst Actress
Day 23: Your Best Couple
Day 24: Your Worst Couple
Day 25: Your First Kdrama
Day 26: Your Recently Finished Kdrama
Day 27: A Kdrama loved by many but you don't seem to like
Day 28: A Kdrama not loved by many but you seem to like
Day 29: A Kdrama which made you so happy
Day 30: A Kdrama which made you so sad