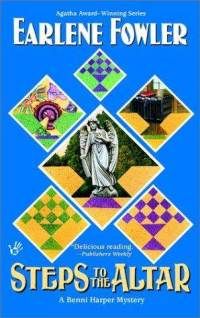 We are constantly torn between the all-consuming desire to be loved and the terrifying fear of being known. Deep inside we don't believe the two things can exist together, that if anyone really knew us, they would surely never love us, so we spend our whole lives concocting this wonderful plastic shell that we fight like madmen to keep pristine.
-p. 172,
Steps to the Altar
by
Earlene Fowler
Teaser Tuesdays is a weekly bookish meme, hosted by MizB of Should Be Reading. Anyone can play along! Just do the following:
* Grab your current read
* Open to a random page
* Share two (2) "teaser" sentences from somewhere on that page
* BE CAREFUL NOT TO INCLUDE SPOILERS! (make sure that what you share doesn't give too much away! You don't want to ruin the book for others!)
* Share the title & author, too, so that other TT participants can add the book to their TBR Lists if they like your teasers!