Found this book on the shelf at home; I think it was bought by my aunt on one of her forays downtown. It must be hereditary in our family-- most of us can't go shopping or malling without bringing home a book or two. So I started reading it...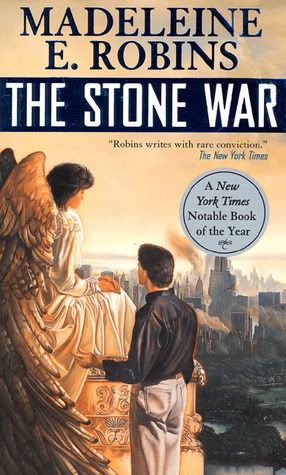 He kept them on the far side of the avenue; Central Park made him anxious; he remembered the icy feeling of death in the park the morning he had walked across it, unrelenting eerieness that made the skin crawl and the hair rise. Looking across into the park he was surprised to see trees flowering, not just the first tentative springtime greening of new leaves, but extravagant masses of blossom.
-p. 120, The Stone War by Madeleine E. Robins
Teaser Tuesdays is a weekly bookish meme, hosted by MizB of Should Be Reading. Anyone can play along! Just do the following:
* Grab your current read
* Open to a random page
* Share two (2) "teaser" sentences from somewhere on that page
* BE CAREFUL NOT TO INCLUDE SPOILERS! (make sure that what you share doesn't give too much away! You don't want to ruin the book for others!)
* Share the title & author, too, so that other TT participants can add the book to their TBR Lists if they like your teasers!