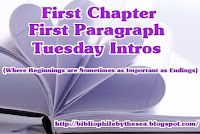 First Chapter First Paragraph Tuesday Intros
is being hosted by
Bibliophile By The Sea
-- as it says, you pick a book and post the opening paragraph and see if other people would like to read the book based on its opener.
Today is really, really light reading, but I like this series-- it's always good for a laugh.
Would you like to read this book?
"Pah," I said. "I wouldn't go out with Adrian Cook if he was dipped in gold and covered in fivers."
Izzie gave me a disapproving look. "Nesta. Covered in fivers? You mean, if he was loaded. So what? I don't think how rich or poor a boy is should make the slightest bit of difference. It's who he is, if he's interesting, good company that counts.
I pulled a silly face back at her. She can be a real priss queen sometimes. "Yeah, but he has to be
reasonably
cute," I said.
"So what if he's cute," asked Izzie, "if he's boring to be with? Just good looks don't count for much after a few dates. You always judge by externals."

"Do not."
"Do."
"Not."