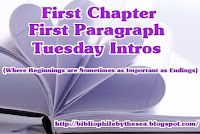 First Chapter First Paragraph Tuesday Intros
is being hosted by
Bibliophile By The Sea
-- as it says, you pick a book and post the opening paragraph and see if other people would like to read the book based on its opener.
More Barbara Michaels today.
Would you like to read this book?
The teashop was located on one of the dingy discouraged streets on the wrong side of the Thames, not far from Waterloo. Its interior appearance matched the neighborhood. Torn plastic mats failed to conceal the streaked grease on the tabletops, and the floor was strewn with the crumbs of a thousand vanished biscuits. The afternoon sun of September fought its way in through windows begrimed with dust.
It was early in the day for the peculiar meal which only the British could have invented; the hour, and the unprepossessing atmosphere of the shop, perhaps explained why there were only three people in the place: two customers, at a back table, and a drowsy-looking waitress, whose teased blond hairdo was pressed up against the transistor radio which filled the room with the jerky rhythms of modern music.