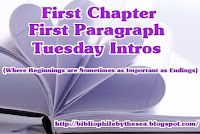 First Chapter First Paragraph Tuesday Intros is being hosted by
Bibliophile By The Sea
-- as it says, you pick a book and post the opening paragraph and see if other people would like to read the book based on its opener.
I just got this book yesterday, so I haven't read more than a few pages yet. I like this author, though.
Would you like to read this book?
EASTER MORNING
Inside the windowless Church of Jesus Christ Eternal, the Easter Sunday sermon is drawing to a close. Although Mr. McKinney has been known to preach for two hours or more when thoroughly aroused, services usually end around noon. Thinking that she hears a winding-down tone in his voice, the teenage pianist quickly turns the pages of her hymnal to the closing hymn the preacher selected at the last minute. An odd choice for Easter, she thinks. Not that it is hers to question, but the other hymns celebrated the resurrection while this one harkens back to the cross and is less familiar to her than some.
The thorns in my path are not sharper / than composed His crown for me;
The cup that I drink not more bitter / than He drank in Gethsemane.
She has to squint to see the shaped notes because the fluorescent tubes overhead are flickering and buzzing again. She has been told these are cheaper than regular light fixtures, but the flickers hurt her eyes.
Not for the first time, she wonders why they couldn't have windows here in the sanctuary. Surely God's natural light would be so much better? But Dad says Mr. McKinney vetoed colored glass as too costly, and clear glass would rob them of their privacy.