Still more Anne McCaffrey! I'm still rereading her books... what an imagination she had. I wish I could have met her. :( The most unusual heroine in this book is actually her best one of all of them, I think, and she's created so many-- Lessa, Menolly, Sorka, Killashandra, Yana, Kris, Lunzie, Sassinak, Rowan, Damia, Laria... and Helva.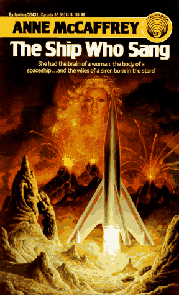 "Are you referring, sir," asked Helva politely, "to the Dark Age discussions of how many angels could stand on the head of a pin?" ...
... "If you substitute 'atom' for 'angel,' the problem is not insoluble, given the metallic content of the pin in question."
-p. 5,
The Ship Who Sang
by
Anne McCaffrey
Teaser Tuesdays is a weekly bookish meme, hosted by MizB of Should Be Reading. Anyone can play along! Just do the following:
* Grab your current read
* Open to a random page
* Share two (2) "teaser" sentences from somewhere on that page
* BE CAREFUL NOT TO INCLUDE SPOILERS! (make sure that what you share doesn't give too much away! You don't want to ruin the book for others!)
* Share the title & author, too, so that other TT participants can add the book to their TBR Lists if they like your teasers!