Today is for another oldie... it just happens that Mercedes Lackey is one of my favorite authors. And she worked with two of my other favorites, late fantasy/sci-fi greats Anne McCaffrey and Marion Zimmer Bradley, so it's all good. Valdemar with Tarma and Kethry, anyone? Another opening-line teaser this week.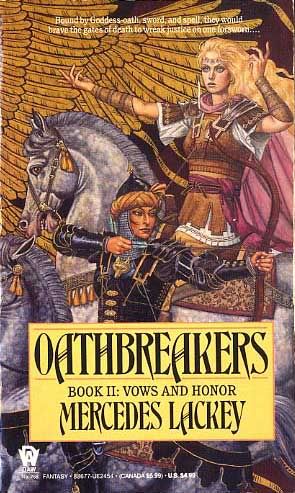 It was a dark and stormy night...
:
Pah!
: Warrl said with disgust so thick Tarma could taste it. :
Must you even
think
in cliches?
:
- p. 11,
Oathbreakers, Book II: Vows and Honor
by
Mercedes Lackey
Teaser Tuesdays is a weekly bookish meme, hosted by MizB of Should Be Reading. Anyone can play along! Just do the following:
* Grab your current read
* Open to a random page
* Share two (2) "teaser" sentences from somewhere on that page
* BE CAREFUL NOT TO INCLUDE SPOILERS! (make sure that what you share doesn't give too much away! You don't want to ruin the book for others!)
* Share the title & author, too, so that other TT participants can add the book to their TBR Lists if they like your teasers!