Because
one of my most favorite authors ever died last week
, I've been re-reading her books. I'm trying to collect them all, which is a huge undertaking... she
authored
at least eight multi-book series! Anne McCaffrey was the first woman to win both a Hugo and a Nebula award, the two most important awards for science fiction and fantasy. She created many fictional worlds and universes that seemed so real I wanted to live there. Oh, and she made me want to ride a dragon. She will always be an inspiration.
Today's teaser is from my favorite book,
The White Dragon
, of her most well-known series,
Dragonriders of Pern
. Jaxom and his dragon Ruth have to be my favorite among all of the memorable Pern characters. Thank you, Anne. I love you forever.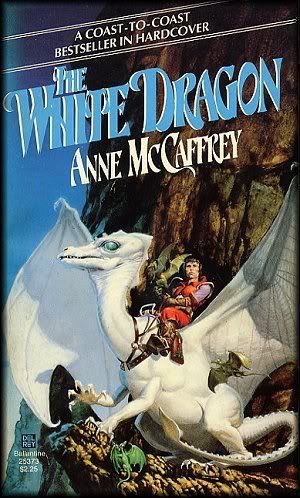 Jaxom splashed wine in a cup and held it to Lytol. "It doesn't stop the pain, I know," he said in a rough tone, "but you can get drunk enough not to hear or remember."
-p. 159,
The White Dragon
by
Anne McCaffrey
Teaser Tuesdays is a weekly bookish meme, hosted by MizB of Should Be Reading. Anyone can play along! Just do the following:
* Grab your current read
* Open to a random page
* Share two (2) "teaser" sentences from somewhere on that page
* BE CAREFUL NOT TO INCLUDE SPOILERS! (make sure that what you share doesn't give too much away! You don't want to ruin the book for others!)
* Share the title & author, too, so that other TT participants can add the book to their TBR Lists if they like your teasers!