I have always had a soft spot for puns and all sorts of wordplay. Especially in book titles. Part of the reason why I've got books by Tamar Myers and Diane Mott Davidson in my collection-- well, in addition to the fact that they're foodie mysteries. I've recently begun reading books by this author, and they're kind of growing on me...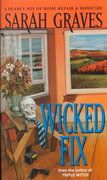 Towards the end, I found myself standing before a Santeria shop window in a neighborhood up above 125th Street, desperately examining a display of magic candles and some vials of powdered sheep entrails, wondering if maybe... Well, I bought a candle-- you can always use candles-- and a week later I discovered Eastport and fell in love with it at once, in the same sudden, irreversible way that a person might be struck by lightning or run over by a bus.
- p. 21,
Wicked Fix
by
Sarah Graves
Teaser Tuesdays is a weekly bookish meme, hosted by MizB of Should Be Reading. Anyone can play along! Just do the following:
* Grab your current read
* Open to a random page
* Share two (2) "teaser" sentences from somewhere on that page
* BE CAREFUL NOT TO INCLUDE SPOILERS! (make sure that what you share doesn't give too much away! You don't want to ruin the book for others!)
* Share the title & author, too, so that other TT participants can add the book to their TBR Lists if they like your teasers!