I've kind of worked Teaser Tuesdays into my weekly blogging schedule. I realize I've been doing this thing weekly for like... over a year now? It's, like, part of my life. :D
Today's teaser is from a classic, and I mean classic. I just love this book. :D I reread it from time to time, just to enjoy it.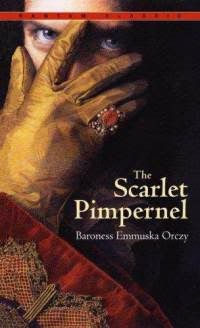 It was nearly a year ago now that Sir Percy Blakeney, Bart., one of the richest men in England, leader of all the fashions, and intimate friend of the Prince of Wales, had astonished fashionable society in London and Bath by bringing home, from one of his journeys abroad, a beautiful, fascinating, clever French wife. He, the sleepiest, dullest, most British Britisher that had ever set a pretty woman yawning, had secured a brilliant matrimonial prize for which, all chroniclers aver, there had been many competitors.
- p. 41,
The Scarlet Pimpernel
by
Baroness Emmuska Orczy.
Teaser Tuesdays is a weekly bookish meme, hosted by MizB of Should Be Reading. Anyone can play along! Just do the following:
* Grab your current read
* Open to a random page
* Share two (2) "teaser" sentences from somewhere on that page
* BE CAREFUL NOT TO INCLUDE SPOILERS! (make sure that what you share doesn't give too much away! You don't want to ruin the book for others!)
* Share the title & author, too, so that other TT participants can add the book to their TBR Lists if they like your teasers!