I will always be grateful that my introduction to the world of Pern was via the Harper Hall trilogy. Menolly remains my favorite Pern character, over her friends Jaxom and Piemur. At first I was hesitant to buy these books, because the blurbs were not very inviting for me, but once I read a bit of what was inside, I didn't want to let them go.
This week's lunchtime book, whence this teaser comes, is therefore
Dragonsinger
by
Anne McCaffrey
. I'd have read
Chrestomanci
because of Diana Wynne Jones [rest in peace, Diana, and thank you for your wonderful, wonderful stories], except those books are at the bottom of the pile and I didn't feel up to being toppled on by a four-foot tall stack. XDD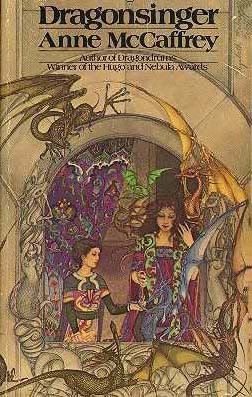 A scream, heard in her mind, a scream like a knife upon raw nerves!
"DON'T LEAVE ME ALONE!"
-p. 131,
Dragonsinger
by
Anne McCaffrey
Teaser Tuesdays is a weekly bookish meme, hosted by
MizB
of
Should Be Reading
. Anyone can play along! Just do the following:
* Grab your current read
* Open to a random page
* Share two (2) "teaser" sentences from somewhere on that page
* BE CAREFUL NOT TO INCLUDE SPOILERS! (make sure that what you share doesn't give too much away! You don't want to ruin the book for others!)
* Share the title & author, too, so that other TT participants can add the book to their TBR Lists if they like your teasers!