One of my favorite restaurants at Robinson's Place Manila before it was renovated was Oody's, which at that time was situated beside Starbucks and across from TGIF's. My best friend Karen and I used to go out once a month for a food trip, and each month we'd pick another restaurant that we hadn't been to before. Once we'd tried Oody's, we kept coming back. I used to just drop by when I was in Robinson's alone and get a bagoong rice and a snow mountain for takeout. Oody's in Robinson's closed during the renovation and now that Midtown has opened, I've been looking high and low for it, but I can't find it anywhere!

I had been craving a snow mountain for some time now, so last Monday (EDSA Day) I dropped by at Karen's workplace (and my former workplace) at Ayala Avenue, and we walked to Greenbelt to look for the Oody's there. Finally! We located it near the entrance just across from Landmark. We walked in, were shown to a table, and were immediately served with the complementary nuts and chicharon appetizer.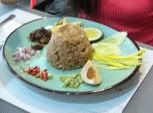 As usual I went straight for my bagoong rice, which despite its lowly name is really yummy. It was served with strips of scrambled egg on top, a slice of itlog na maalat at the side, thin strips of green mango (mmm!) and a serving of pork adobo. As usual, there were also the diced sitaw, siling labuyo and sliced cucumber. With that I had Thai iced tea, which is their version of nai cha or milk tea. Karen opted for something new, so she ordered the egg noodle soup with crabmeat. That came as a surprise, because when I tasted the broth, it was reminiscent of my ultra-favorite comfort food, the real La Paz batchoy (not that stuff that you buy at fast food that they say is batchoy, but is too sweet). This broth had just the right blend of flavor, and was not too salty. Although it came in an ultra big bowl, Karen and I finished it all down to the last drop. With the egg noodles, Karen had the pandan iced tea. After that, we finally had our snow mountains. Karen chose pineapple and I chose sala, which is such a simple name for that flavor that Karen said was reminiscent of peppermint drops. Solved!